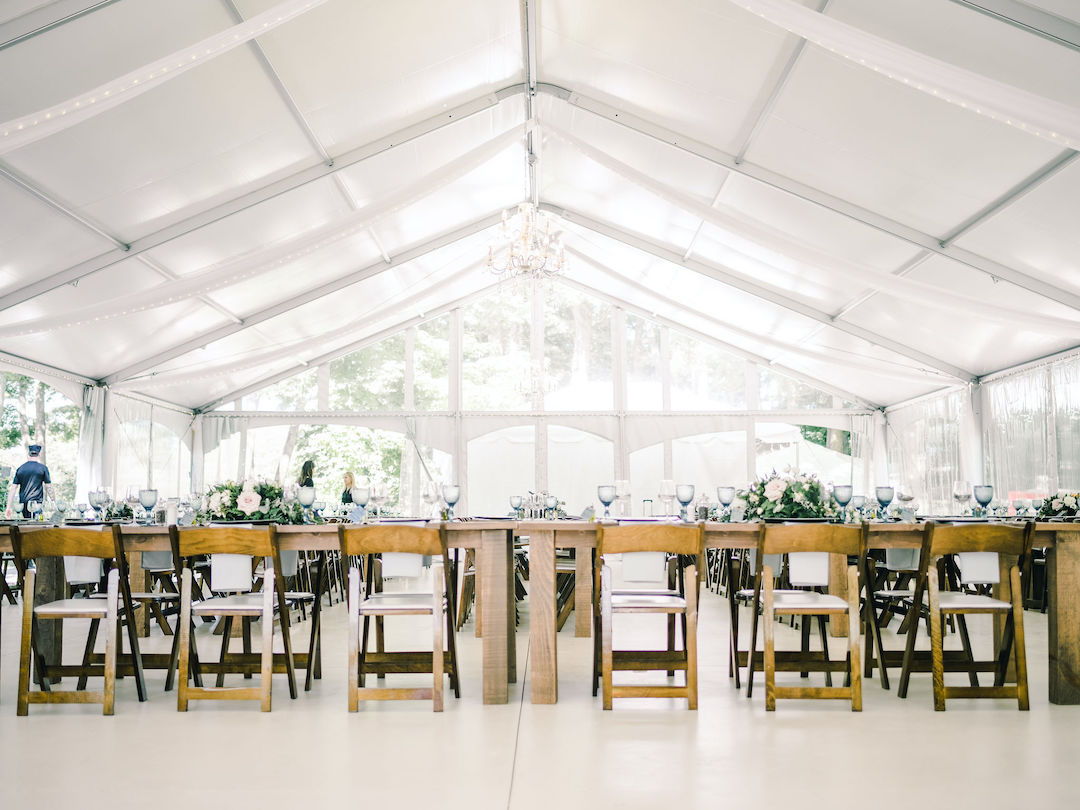 Property Spotlight – The Tent
Northbrook Farm started hosting weddings in 2011. We rented just the property to the couple and they had to bring in everything else including a rented pole tent. The location of the tent for the first couple of years was in the field where we now park the cars.
In 2016 we started planning to purchasing our own tent but we wanted something special that would really stand out and make a statement for our couples. We wanted an elegant looking structure that would be suitable for weddings but also for other events that we wanted to offer like anniversary parties, corporate events and celebrations of life.  
After a lot of research we came across the tent you see here and fell in love with it. It is a frame tent which means there are no poles so the entire inside area can be used. We chose window panels to allow the bride, groom and their guests to enjoy views of property during  the wedding reception. We chose a white top over a clear material for its classic look and to keep everyone cool during dinner and dancing.  Before the tent arrived we had a company come and pour the cement floor so that we could permanently attached the frame of the tent to it.  The frame structure stays up all year and the roof and panels come off in October and go back on when weather allows.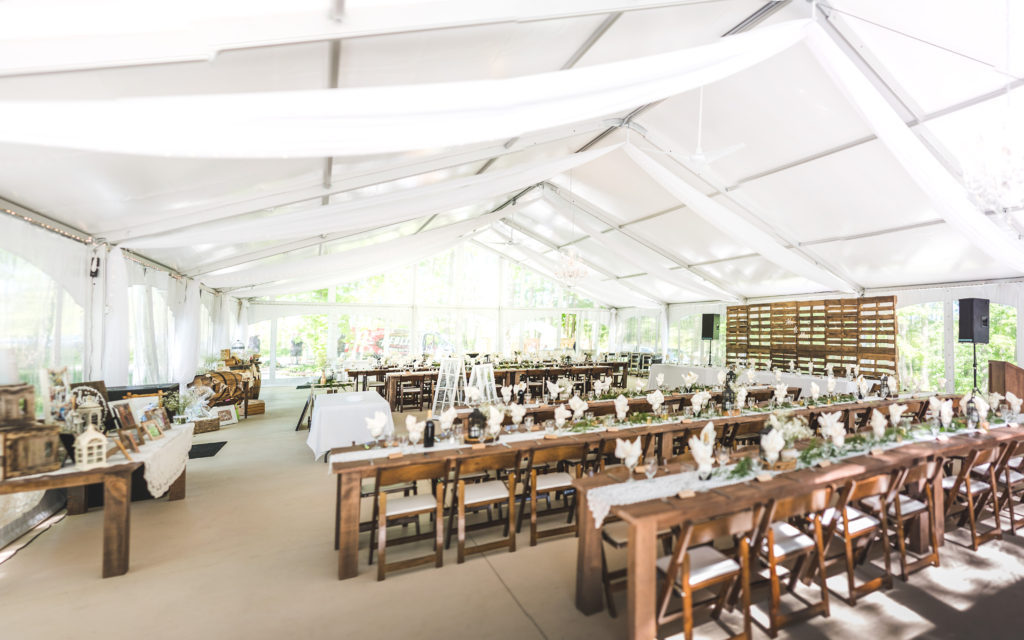 We moved the reception area to its current location because we felt it added to the privacy for the reception and was surrounded by beautiful trees.
Our intent was to make it as easy as possible for couples who wanted an outdoor venue to have their ceremony and reception in one place. We built wood harvest tables and purchased wood folding chairs. We built a bar and a podium to match the tables. We added 3 chandeliers, two fans, drapery with fairy lights hanging from the ceiling and lighting around the perimeter to add to the beauty of the tent. These items make it very easy for you when setting up – you just need to come in and arrange the tables, decorate and your ready.
No extra lighting is required and depending on your setup we have plenty of tables. There are 24 custom made harvest tables and 160 dark stained wooden folding chairs with white padded seats.
Caterers love the accessibility to the tent as they can park their vehicles close to where they will be working. We also provide a catering tent to accommodate their needs. It makes serving meals in an outdoor setting that much easier. We love making life easier for your vendors so they can shine during your event.
We often get asked if candles are allowed, they are as long as they are in a glass container or you can use an imitation option instead. Smoking is not allowed in or near the tent so we have serval smoking area options for your guests to enjoy.
The tent is a beautiful space for your reception in a natural setting. We are confident you and your guests will be impressed.